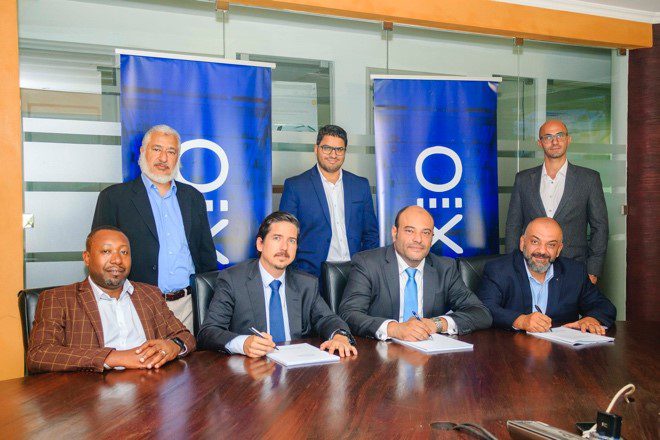 Giza Systems and United Advanced Building Systems (UABS) Kick Off Works
As the construction of Uganda's first carrier-neutral data centre facility progresses, consortium partners Giza Systems and United Advanced Building Systems (UABS) have officially begun work as the Mechanical & Electrical (M&E) Contractor on the site in Namanve, Uganda. Further, Mehta Electronics which has a strong presence in Uganda, has also begun work on site as a subcontractor for much of the electrical work.
Giza Systems and United Advanced Building Systems (UABS) emerged winners from a wide range of bidders that participated in a competitive process that started earlier this year and was overseen by Raxio's lead consultant on the project, Future-tech.
The scope of work being handled onsite covers final design, supply and installation of all mechanical and electrical equipment and ultimately, fully integrated testing & commissioning of the facility.
Raxio Data Centre General Manager James Byaruhanga said that Giza Systems and United Advanced Building Systems (UABS) was ecstatic about the developments:
"Power and cooling are two critical components in any data centre. It is imperative that we get them right so that we can offer our customers the level of uptime and reliability they expect to receive from a Tier III data centre facility. We look forward to the amazing work that Giza Systems and UABS will be doing – they are best suited to do this job given their technical competence, strong supply chain and experience working with data centers" Mr. Byaruhanga said.
The Raxio Data Centre is being developed to Tier III standards and will be the first truly carrier-neutral co-location facility of its standard. It was designed by Future-tech, a UK-based specialized data centre design company, and Symbion Uganda, part of Symbion Group, a leading-multinational architectural firm with over 35 years of heritage in East and Southern Africa.
Robert Mullins, Raxio Data Centre Executive Director, and representative of Raxio's main shareholder, First Brick Holdings also gave comments about the move:
"We are very pleased to have found in Giza and UABS a team with the unique combination of domain expertise, large and complex project execution capabilities and strong local and regional presence. We are convinced they are the right partner to deliver such a critical part of our Namanve facility, which will be set a new standard in terms of regional digital infrastructure. " said Mr. Mullins,.
Founded in 1974, Giza Systems is a leading systems integrator in the Middle East and Africa providing a wide range of technology solutions to the telecom, utilities, oil & gas, and manufacturing industries. The company specializes in streamlining operational and business processes.
The Giza / UABS Consortium proven track record and capabilities will enable them to integrate proven technologies and effective solutions to streamline operations and successfully execute the project.
Other key parties that are overseeing the construction of Raxio Data Centre include Future-tech UK (Lead consultant and Technical Partner), ROKO Construction (Civil Works Contractor) and Symbion (Architect). Construction is set for completion by December 2019 when Raxio Data Centre will be officially open for business.