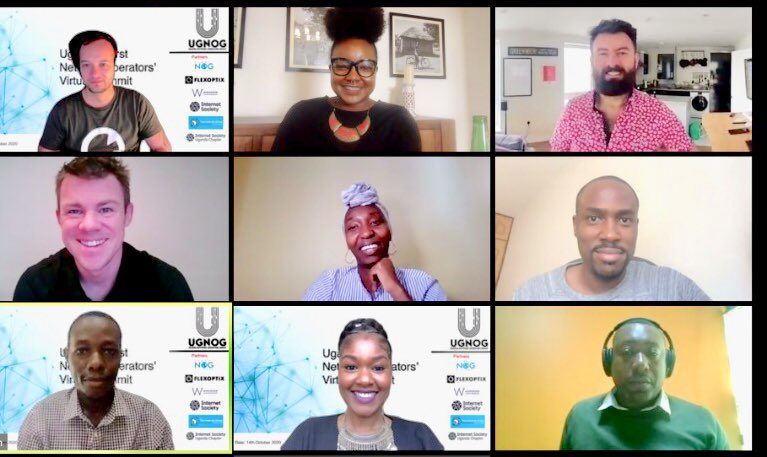 Carrier neutral data centres are the heartbeat of the internet ecosystem
"Data Centres are the heartbeat of the Internet Ecosystem" remarked James Byaruhanga, General Manager of Raxio Data Centre at the first annual Uganda Network Operators Group (UGNOG) virtual Summit that took place on 14th October 2020, at 3-5pm. These remarks were made during his presentation at the Virtual Summit where he was one of the 4 Panelists present to discuss and make presentations on the Internet, Interconnection and Global Routing resilience.
As a UGNOG guest panelist, James' main area of discussion was "The Case for Carrier Neutral Data Centres to the Internet Ecosystem". Under this topic, he brought up the fact that we are seeing a growth in the creation of Data Centers, especially Carrier Neutral Data Centers and he expounded on the important role they're playing in the Internet ecosystem now and in the years to come.
"There's always some kind of disruption that will take place in the environment, for the case of Uganda, we see all kinds of disruptions happen like sudden fires that have been taking place, fibre cuts that strangely happen more often than expected. However, the value of Carrier Neutral Data Centres is that they're the perfect hub spot for disaster recovery, business continuity, security and, they can facilitate easy cross connect for local and international carriers"
Colocation Data Centers, is one of the many types of data centres, and James focused on this type of data centre that enables local and international carriers, cloud and internet service providers and cable system companies to store their data equipment. He focused on collocation data centres due to the fact that Raxio Data Centre is a collocation data center. He highlighted the fact that the Raxio Data Centre significantly reduces the total cost of ownership in regard to investment and operating costs compared to one having an in-house data centre.
"The benefit of bringing your data equipment into a Colocation Data Centre like Raxio Data Centre is that you make a huge saving on investments in power, cooling, cabling and connectivity. Investments in infrastructure are already made by Raxio Data Centre and, you are ensured maximum uptime and business continuity. We are also optimized for much larger installations required, and you don't have to recruit an unnecessary number of IT and Data experts to handle your equipment, therefore cutting your operating costs as well because handle that for you and also present you with a dedicated facility staff across the customer base."
Other value added services mentioned by James with having a carrier neutral data centre were that it is a good strategic disaster location, IXP/Nap is present, high security is provided to protect the racks residing within the data centre, redundant & diverse fibre connectivity options are available, collocation via flexible and scalable configurations can be made, shift & stack services for easy migration are provided and there's 24/7 remote support that is available whenever needed.
He also went on to say that, "We want our customers and those brought on from resellers to have multiple fibre routes within the data centre. With this good environment created, we aim to bring scale and have local and international players in the same room because having them closer to the customer greatly improves network services and definitely creates a good ground for the future of the ecosystem. That is why a carrier neutral data centre is a good foundation for data services to integrate into."
Other Panelists present were Ben Ryall from Facebook who touched on "Serving traffic effectively to people", Michelle Opiyo, a Network Engineer from Workonlline Communications that discussed  "MANRS for Network Operators", and Kyle Spencer, Chairman of Board and Executive Director of Uganda Internet Exchange Point (UIXP), who presented "Introduction of Peering and the UIXP".
During Kyle's presentation, he announced that their NGO, UIXP will expand into Raxio Data Centre and the company's content will reside and live within the Carrier Neutral Data Centre. "We believe it's a really important step in Uganda's Internet Ecosystem and we are pleased to have our content live at Raxio Data Centre, that way we are closer to our Ugandan customers and their needs can be met easily."
UGNOG is a forum created with the aim of capacity building and technology development within Uganda. Here, operators can discuss best industry practices and empower the Ugandan community to meet the ever-changing demands of the global Internet. The hosts of the UGNOG virtual summit were Isabel Odida & Noah Maina from UGNOG, and Portia Rabonda from Flexoptix.
The forum is under the umbrella, East African Network Operators Group (EANOG), which was started to bring together network operators and network operator aspirants in the East African region to discuss operational issues and technologies of interest to data network engineers in the East African Region.