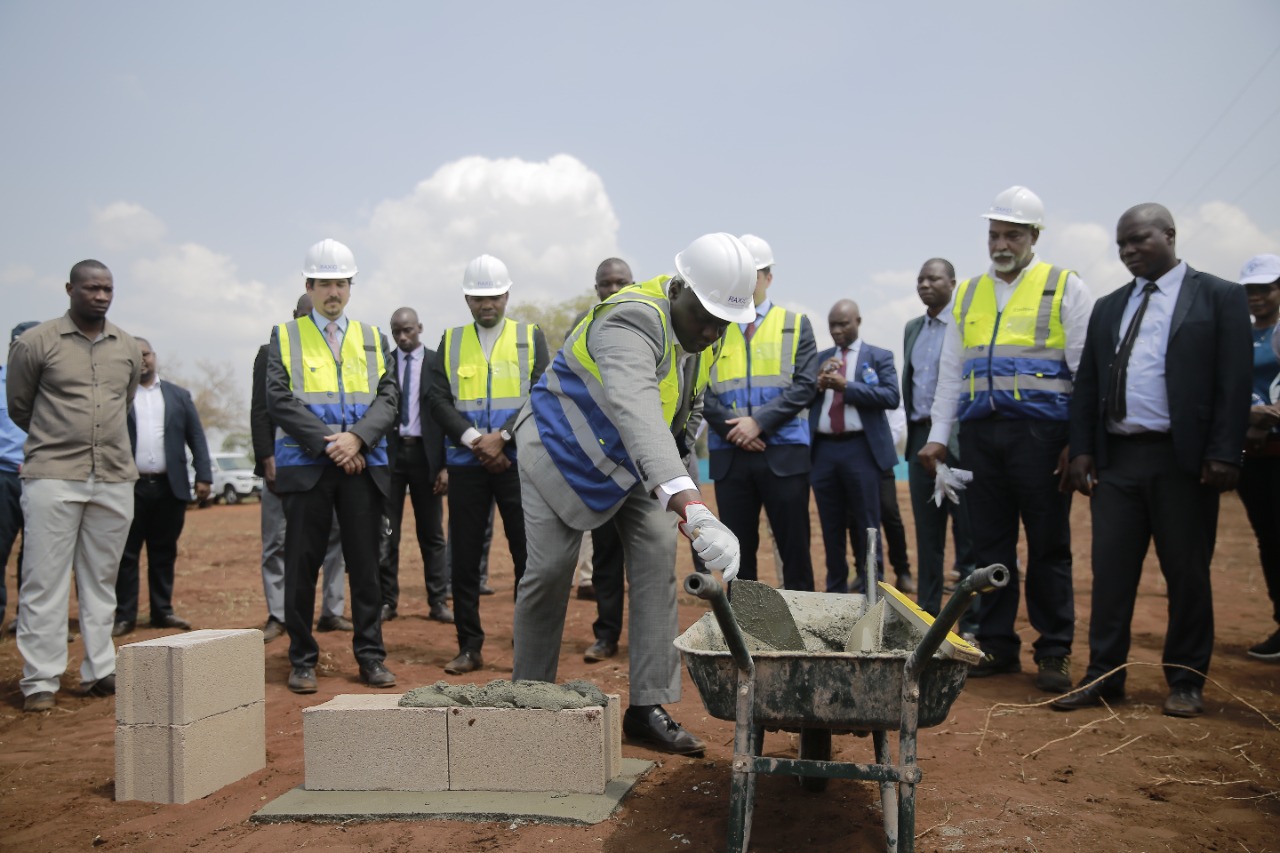 Raxio Group Breaks Ground for Construction on next carrier neutral, colocation data centre in Mozambique
Maputo, 30 September 2022: The Raxio Group ("Raxio"), a leading pan-African data centre developer and operator, held a ground-breaking ceremony that formally kicks off the construction of its premier Tier-III carrier neutral colocation data centre, located at Beluluane Industrial Park (MozParks) in Maputo, Mozambique ("Raxio MZ1").
The event was attended by members of the government, including the Governor of Maputo Province, His Excellency Julio Parruque, executives of MozParks, members of the media, customers and senior representatives of the Raxio Group.  During the event, Raxio laid the first brick of the future facility, marking the beginning of its construction. This follows a detailed process of design development and technical optimization to achieve high operational efficiency that will serve as a benchmark for the region.
Robert Mullins, CEO of Raxio Group, gave remarks highlighting the role Raxio Mozambique will play in strengthening the country's digital backbone: "We're delighted to break ground on another facility, which demonstrates Raxio's commitment to serving the region's economy and digital transformation journey. More and more Mozambican individuals and businesses join the digital community every day, and this number continues to grow at a fast pace. This is why access to stable, mission critical environments in Mozambique is more important now than ever before. We are looking forward to supporting the country's digital growth by developing the first hyperscale ready colocation data centre that will be operated by a team of highly skilled Mozambiquan professionals. Our site at the MozParks Industrial Park provides us with an ideal operating environment, with prime access to connectivity and power infrastructure, as well as the possibility to supply our site largely from renewable energy sources, allowing us to further our ambitious ESG goals."
Internet use in Mozambique is increasing rapidly, with the number of internet users more than doubling from 15% to 32% between 2015 and 2021. At the same time, new and advanced submarine and terrestrial fibre optic network infrastructure will benefit the country, by dramatically improving connectivity and driving down the cost of access.. This much-needed international bandwidth will accelerate the country's internet adoption, increasing the need for a stronger infrastructure backbone. Raxio will provide carrier- and cloud-neutral colocation services to its customers, creating an ideal environment for businesses and connectivity providers to interconnect, process and store data.
In addition to providing much needed colocation capacity to the country's digital backbone, Raxio MZ1 will nurture interconnection through redundant meet-me rooms. Mobile network operators, ISPs and carriers will be able to interconnect to each other and their customers, reducing the cost of access to content across the country, at a time when new submarine cables will also be providing Mozambique with enhanced international connectivity. Raxio MZ1 will be fully equipped with industry best in class cooling technology, security,  AC/DC power compatibility and redundancy in an "always-on" environment.
The facility will keep with the company's core sustainability principles to minimize the environmental footprint through optimal equipment selection and sustainable design. In addition, the MozParks location will provide Raxio MZ1 the possibility to meet its electricity requirements from renewable sources.
To complement its internal team, Raxio has assembled experienced technical partners specialised in design, engineering, and construction. Master Power Technologies, who last year entered a long-term partnership with Raxio, will lead on mechanical and electrical works. Mota Engil Moçambique, a leading general contractor in the country, will be responsible for the civil works, with Keyplan Associates as the local architect who has completed the design and will oversee the construction and African Century Real Estate Ltd who have supported Raxio's development since inception in Mozambique.
Raxio Mozambique is part of the Raxio Group portfolio, which includes Raxio Uganda, Raxio Ethiopia, Raxio DRC, Raxio Ivory Coast and Raxio Tanzania. The Company is on track to complete multiple data centre investments across Africa to meet the increased demand for international standard data centre infrastructure in the region.
____________
About Raxio Group
Established in 2018, Raxio Group is Africa's leading carrier-neutral Tier III data centre operator, delivering best-in-class colocation services. We provide industry-standard, carrier-grade facilities and services that form the foundation for Africa's digital economy. We also operate the widest footprint of green data centres in the continent. Following the launch of our first facility in Uganda, Raxio now has a presence in Ethiopia, the Democratic Republic of Congo, Ivory Coast, and Mozambique. We are constantly expanding our footprint and are on track to build several new facilities over the next two years, establishing a network of interconnected data centres servicing the active and latent demand across the African continent. For further information, please visit www.raxiogroup.com.